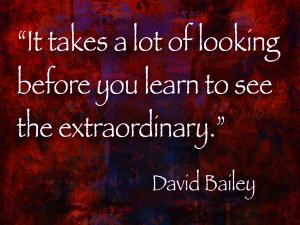 Photography Quote

Today's quote is interesting because I think of how long it took me to really 'see the light' in order to capture photographs with depth. When I started out in photography, having had an interest in art, my photos had good composition with the occasional lucky exposure that led to people saying, "Man that's good! You should photograph more and turn pro." Luckily I did the former first, for a long time, before I did the second. The difference between a good photo and a great photo is definitely in seeing the lighting. You can make an extraordinary image of an ordinary subject with great light. And you can take an extraordinary scene or subject and render them ordinary or even ugly by using less than stellar lighting.

"It takes a lot of looking before you learn to see the extraordinary." David Bailey

Funny thing is when we talk about seeing the light that is exactly the opposite of what gives our images depth and dimension. Shadows are in charge of making that happen. I wish I could remember with accuracy, but I believe it was Arthur Rainville that was the first person to get it into my head that shadows describe form and create the shapes in our two dimensional surface of a print or monitor.

Studying Dean Collins work (Finelight Video available here) and hearing him share his thoughts led me to have more of a language of light and shadow and paying attention to the most minute detail. Having a language allows you to think in a different way. It expands your mind and possibilities. Diffuse light. Specular highlight. Shadow edge transition. Edge light. Words and phrases that give light and shadow life in your mind allow you to look for light, and shadow, in different ways and start getting it into your images. Learn the language and you'll find more in your images.