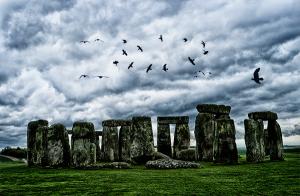 Just returned from a trip to the UK and the British Isles so I will be working on images photographed there. Hereís one of the first. Itís from Stonehenge. I donít want to say it was cold and blustery but 45 MPH winds made holding the camera steady difficult and was a true ordeal. It was the beginning of a cold front and the huge rainstorm had passed about an hour before. But, the cold air following had a chance to establish itself. I felt really bad for the guys that had to man the station and stay out in that cold but it didnít seem to bother them terribly.

Something is talking to me about making these images from Stonehenge and my mind. I hope you enjoy they will be available for sale in the not too distant future. This is the beginning of a series of a Stonehenge Fine Art Series. They will be available for sale soon. I'd like to get a few more of the final images prepped. Check out the story of the ravens showing up to be photographed after I realized I needed them for one of the images I saw in my mind. Click on the link for more information to see.

I am available for commissioned work. Have an image in your mind you would like to see on the wall?? Give me a call to see if I can be of help taking your vision to art.