September 7th, 2013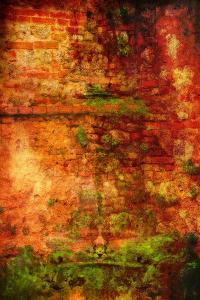 Check out the new upload of a fine art photography piece from the Tuscan region of Italy. This brick wall with vines has a great feel. It was created from a wall the Italian town of Radi. This wall was full of texture and vines and growth. I enhanced the color, added more texture and selectively blurred and sharpened different areas of the image to create the final piece using Adobe Photoshop as my main editing tool. This is hanging in my home because my wife saw it on the monitor and said, "I want one of those for the house!" you know the expression Happy wife equals happy life. This is also hanging at the restaurant Dans Bistro in Sedona, Arizona to help give the decor a European flavor.
June 16th, 2013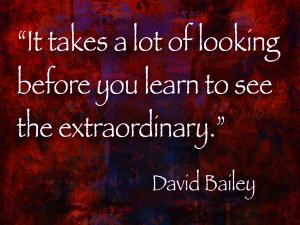 Photography Quote

Today's quote is interesting because I think of how long it took me to really 'see the light' in order to capture photographs with depth. When I started out in photography, having had an interest in art, my photos had good composition with the occasional lucky exposure that led to people saying, "Man that's good! You should photograph more and turn pro." Luckily I did the former first, for a long time, before I did the second. The difference between a good photo and a great photo is definitely in seeing the lighting. You can make an extraordinary image of an ordinary subject with great light. And you can take an extraordinary scene or subject and render them ordinary or even ugly by using less than stellar lighting.

"It takes a lot of looking before you learn to see the extraordinary." David Bailey

Funny thing is when we talk about seeing the light that is exactly the opposite of what gives our images depth and dimension. Shadows are in charge of making that happen. I wish I could remember with accuracy, but I believe it was Arthur Rainville that was the first person to get it into my head that shadows describe form and create the shapes in our two dimensional surface of a print or monitor.

Studying Dean Collins work (Finelight Video available here) and hearing him share his thoughts led me to have more of a language of light and shadow and paying attention to the most minute detail. Having a language allows you to think in a different way. It expands your mind and possibilities. Diffuse light. Specular highlight. Shadow edge transition. Edge light. Words and phrases that give light and shadow life in your mind allow you to look for light, and shadow, in different ways and start getting it into your images. Learn the language and you'll find more in your images.
June 5th, 2013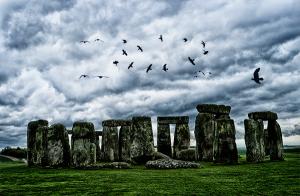 Just returned from a trip to the UK and the British Isles so I will be working on images photographed there. Here's one of the first. It's from Stonehenge. I don't want to say it was cold and blustery but 45 MPH winds made holding the camera steady difficult and was a true ordeal. It was the beginning of a cold front and the huge rainstorm had passed about an hour before. But, the cold air following had a chance to establish itself. I felt really bad for the guys that had to man the station and stay out in that cold but it didn't seem to bother them terribly.

Something is talking to me about making these images from Stonehenge and my mind. I hope you enjoy they will be available for sale in the not too distant future. This is the beginning of a series of a Stonehenge Fine Art Series. They will be available for sale soon. I'd like to get a few more of the final images prepped. Check out the story of the ravens showing up to be photographed after I realized I needed them for one of the images I saw in my mind. Click on the link for more information to see.

I am available for commissioned work. Have an image in your mind you would like to see on the wall?? Give me a call to see if I can be of help taking your vision to art.


June 4th, 2013

I've been fortunate to receive recognition for my Fine Art Photography techniques through the Arizona Professional Photographers Association photographic competition. If you would like to get all the details check the link for more information. Some of the awards included Masters Portrait Photographer of the Year, Masters Illustrative Photographer of the Year, AZPPA Top Ten, American Society of Photographers Award and more. I am very fortunate that my work has captured others attention and I hope you enjoy it also.

I am currently taking commissions. Call 928-284-0200 to chat about your art wants and needs. There's no risk on your part as I guarantee you will like the work or you get your money back.
February 20th, 2013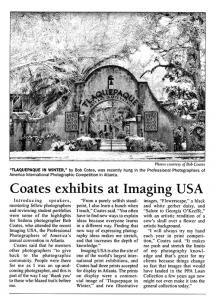 Introducing speakers, mentoring fellow photographers and reviewing student portfolios were just some of the highlights for Sedona photographer Bob Coates when he attended Imaging USA the Professional Photographers of America's (PPA) annual convention in Atlanta Georgia.

When asked, "Why mentor other photographers?" Bob replied, "To give back to the photographic community! People were there for me as I was an up and coming photographer and this is part of the way I say thank you to those who blazed trails before me. From a purely selfish standpoint I also learn a bunch when I teach. You often have to find new ways to explain ideas because everyone learns in a different way. Finding that new way of expressing photography ideas makes me stretch and that increases the depth of knowledge."

Imaging USA is also the site of one of the world's largest International print exhibitions and Coates had three prints he submitted accepted for display in Atlanta. The prints on display were a commercial image of 'Tlaquepaque in Winter', and two illustrative images, 'Flowerscape' a black and white gerber daisy and 'Salute to Georgia O'Keeffe' with an artistic rendition of a cow's skull over a flower and artistic background. "I will always try my hand each year in print competition," exclaims Coates. "It makes me push and stretch the limits of my photography knowledge and that's great for my clients because things change so fast images that would have landed in the PPA Loan Collection a few years ago now might not even make it into the general collection today."
February 11th, 2013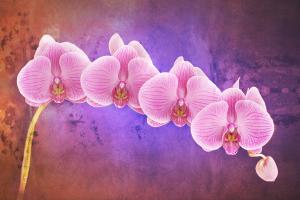 I've been working on this art technique for the last three years. The process involves blending multiple photographs together to create images that have a masters painterly feel to them. Using various digital processes, photos of organic, man-made and natural textures are rendered together.

The finished art images have depth and dimension. It's art that comes alive. After exploring many options I've finally dubbed this process 'Photo Synthesis'.

PHOTO - We all know that term Photo is the art or process of producing images by the action of radiant energy and especially light on a sensitive surface or as it is often called 'Painting with Light'.

SYNTHESIS - According to Wikipedia - "In general, the noun synthesis refers to a combination of two or more entities that together form something new." The dictionary says, "Synthesis is the combining of the constituent elements of separate material or abstract entities into a single or unified entity."

I feel the combining of these two words describes my process of creating art. I hope you enjoy... Check the France Gallery and the Botanicals Gallery for more images created using this process.


February 10th, 2013
Bob will be judging the Professional Photographers of America Western States District Photographic Competition February 22-24, 2013. Coates will be working with other PPA Affiliated Jurors - Helen Yancy, Barry Rankin, Rod Brown, Gabriel Alonso, Kalen Henderson, Audrey Wancket, Dennis Hammon. This group of photographers will be judging images based on a standard and images scoring 80 or better will be awarded a Seal of Approval. Photographers who attain a Seal can move that image on to the PPA National Photographic Competition to receive a Merit and the possibility of getting into the PPA Loan Collection. Bob states, "In addition to giving back to the industry, working at judging photographic prints at this level gives me the benefit of being exposed to new work being produced and an immersion in photography for days. I've always found that my work seems to take another step up after performing this service.
February 10th, 2013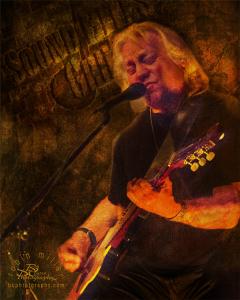 Skip Cohen of Skip Cohen University (SCU) asked me to chat about photography, photographer education and the photo industry in a blog post. Skip is one of the pioneers in the photo industry from heading up Hasselblad to working to bring education to photographers by growing the WPPI Convention, Rangefinder Magazine and bringing education to photographers in a myriad of ways. It is a pleasure to work with Skip and I want to thank him for asking me to be a part of the SCU faculty.